Gender inequality continues to be a global societal issue that affects women and is an obstacle to human growth.
Despite significant progress in reducing inequalities, women continue to face prejudice, which is compounded by variables such as culture, religion, social norms and discriminatory laws. In the various forms of prejudice faced by Nigerian women, culture and religion have figured prominently.
Some tribes of Nigeria seen men more favorably in terms of economic empowerment and inheritance. When it comes to distributing land or other property, a tribe in Nigeria, for example, does not include women or girls in its wills. Women are considered suitable for cooking and agricultural work. As a result, they depend on and obey their male counterparts.
Nigeria been ranked 139th out of 153 countries in the World Economic Forum's Global Gender Gap Index for 2021, the lowest level since 2006.
The World Bank assigned the current score to the limited progress made on legal reforms recorded by "Women, Business and the Law over the past 50 years".
Nigeria passed the Violence Against Persons (Prohibition) Act 2015, which seeks to eliminate all forms of violence in the private and public spheres and includes the right to housing and other forms of social assistance for victims of violence. To date, the law is still struggling to be domesticated in 17 states, the majority of which are in the northern region of Nigeria, as parts of the law contradict their existing penal codes.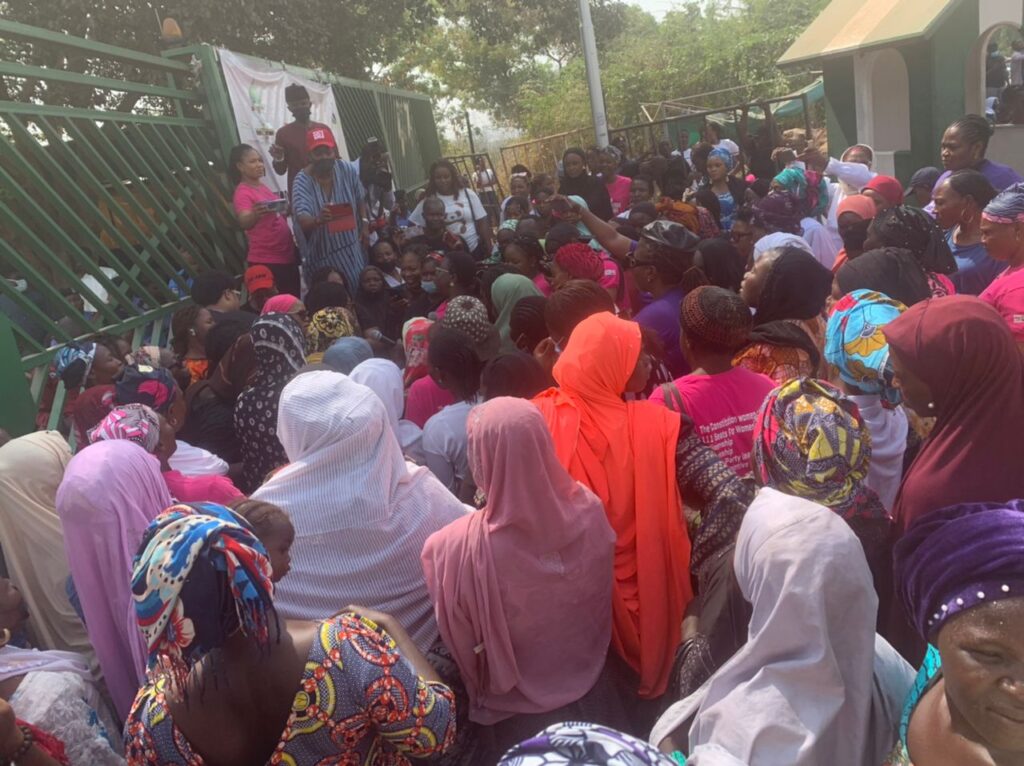 HumAngle has reported how the absence of the Equal Rights Bill from the country's parliamentarians' amendment to the Nigerian Constitution of 1999 prompted protests from various women's rights and human rights organizations. civics. The Equality Bill was originally submitted to the 8th Senate in March 2016 and was defeated for the third time in five years.
One of the bills attempted to offer citizenship to the husbands of Nigerian women born outside the country. The foreign-born wife of a Nigerian can already become a citizen of the country. Another proposal was to allocate 35% of political seats to women on the basis of their nomination. Separate legislation was also enacted to create special seats for women in national and state assemblies. Following a protest on Tuesday, March 8, the country's House of Representatives reversed its ruling on indigenity, citizenship and 35% affirmative action for women.
The passage of these bills is a step towards ending all forms of gender-based violence (GBV) against women and girls in Nigeria.
Recently, the Nigeria National Human Rights Commission (NHRC), mentioned it received 158,517 complaints of sexual and gender-based violence (SGBV) against women and children in 2021.
Nigeria's Gender and Equal Opportunity Bill has yet to become law, despite some African countries implementing new legislation to promote economic equality.
Gabon, Togo, Angola, Benin and Burundi, according to a recent The World Bank's "Women, Business and the Law 2022" report adopted and implemented sweeping legal reforms to create greater economic equality for women.
The annual report examines laws and regulations affecting women's economic participation in eight areas: mobility, workplace, salary, marriage, maternity, entrepreneurship, assets and pensions. It covered changes that took place between October 2, 2020 and October 1, 2021 globally.
Tendency
Nigeria has a score of 63.1 out of 100 in the World Bank's Gender Report for 2021, which places it below its African peers Gabon (82.5), Togo (81.9), Benin ( 80.6), Angola (79.4), Burundi (76.3) and Sierra Leon (72.5). Egypt scored 50.6, an increase from the previous year.
Nigeria's score was the same in 2020 compared to the previous year, while Gabon, Benin, Angola, Burundi, Sierra Leone and Egypt improved by 57.5, 75.5 , 73.1, 73.1, 69.4 and 45.0 in 2019. Togo moved from a high of 84.4.
According to the World Bank to researchNigerian women experience economic inequality as well as barriers to exercising their voice and agency.
What Gabon and others have done differently
The report highlighted some of the reforms undertaken by other African countries to improve gender equality.
Gabon is distinguished by a profound reform of its civil code and the promulgation of a law on the elimination of violence against women. The World Bank report revealed that Gabon's score rose from 57.5% to 82.5% after the reforms.
HumAngle has reported how Gabonese reforms give women the same rights as men in terms of deciding where to live and finding work without the husband's permission.
Women are no longer required to obey their husbands following the reforms. Gabon also granted housewives the same property rights as men, as well as administrative responsibility over marital property.
The Gabonese government has also passed legislation to protect women from domestic violence, as well as other measures allowing women to open bank accounts in the same way as men and prohibiting gender discrimination in services. financial.
Other African countries have also reformed their legislation. For example, Egypt passed legislation to protect women from domestic violence and to make it easier for women to obtain credit by prohibiting gender discrimination in financial services.
Angola passed a law making sexual harassment in the workplace illegal. Benin lifted bans on women working in construction, allowing them to perform all the same tasks as men. Burundi has implemented a policy of equal pay for equal effort.
Sierra Leone made it easier for women to access credit by prohibiting gender discrimination in financial services. Togo has enacted new legislation that makes it illegal to fire pregnant employees.
What should be done
Onyeka Okongwu, in a publication of the International Journal of Discrimination and Law mentioned discrimination against women in Nigeria will continue to be a problem until religious and cultural ideas that promote male superiority are changed through education and awareness.
Okongwu said the equality bills will continue to face considerable opposition since the legislature is made up of people who have deeply adverse views on the role of women in society and do not want to change.
The researcher said change must start at the local level and the government must demonstrate its commitment to this change by supporting it through education and public awareness campaigns.
---
Support our journalism
There are millions of ordinary people affected by conflict in Africa whose stories are missing from the mainstream media. HumAngle is committed to telling these difficult and under-reported stories, hoping that those affected by these conflicts will find the safety and security they deserve.
To make sure we continue to provide public service coverage, we have a small favor to ask of you. We want you to be part of our journalistic enterprise by bringing us a token.
Your donation will further promote a strong, free and independent media.
Donate here